Wuff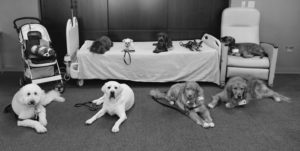 Training the dog is easy, training the owner is not.
The challenge is creating a training plan for each unique combination of a dog and owner. This requires a trainer to quickly access the dog's age, breed, and temperament combined with the owner's age, ability, and temperament. Further complicating this relationship is the level of distractions present AND and past or current relationships. Is the spouse or child reinforcing behaviors? Was the rescued dog neglected? Training a dog requires good timing, patience, repetition, visual demonstrations, hands on demonstrations, and a choice of equipment. Teaching an owner these skills is the key to success.
As a Professional Dog Trainer (CV) I offer several services:
Group Classes – I provide a safe venue for dog owners to train their dogs around distractions. I teach the owner how a build a strong foundation of obedience what will last a lifetime.
I prescreen so families and their dogs have a safe training environment.
I require proof of vaccinations (including bordatella).
I quarantine new adoptions to reduce the risk of canine influenza.
I teach handlers the pros and cons of training equipment options: choke collars (metal, cloth), pinch collars, soft slip leashes, and e-collars (with vibrate/tone/stimulation).
I have trained and evaluated over 5,800 dogs since 2002.
I have over 5,500 hours of running group obedience classes. I have run 2-4 classes year-round locally since 2001. That is 1,800-3,500 hours of experience to draw from, just locally. That does not include private lessons, therapy dog training, or classes held out of town.
You will have a greater chance of success if you attend a structured obedience class before your puppy reaches 6 months (4 months for certain breeds). IF you ignore or negative reinforce a behavior for too long, it will mean a lifetime of bad behavior. Early intervention is the best way to prevent behavior disorders. wagit2me@gmail.com
Private Dog Coaching – I also offer private lessons based on your schedule and the locations vary. If you are having issues at your house, I come to your house. My fees start at $50/hour locally (Sterling/Rock Falls/Dixon/Polo/Morrison) for puppies 12 weeks and under. For older puppies, dogs, and aggression issues are handled higher rate, starting at $100.00.
Contract Dog training – I have successfully raised and trained over 35 pet dogs, 6 Service Dogs, and 7 dogs for Facilities. I care for these dogs in my house as part of my family so I only take one puppy at a time (some overlap). Each contract is unique and based on your family's need, but the range is $3,500 to $10,000. I currently charge $1,500/week and have limited openings.
Consulting – I create and maintain dog programs for hospitals, schools, and other public entities. My resume details my projects (CV).
If you want a trained dog, you have to put in the time or pay someone to do it for you.
No dog whispering, spend time on leash.